News
Shropshire Council is pleased to receive the Government's Project Gigabit update which continues to prioritise Shropshire in an early deployment phase.
Since 2013, Shropshire Council's Connecting Shropshire broadband programme has worked alongside Building Digital UK (BDUK), part of the Department for Digital, Culture, Media & Sport.
Since 2014 coverage of superfast broadband has increased from 24% to 98% with over 68,000 premises directly benefitting.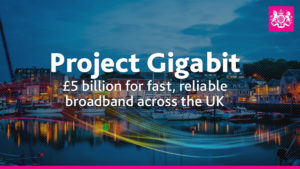 Up to now Shropshire Council has been responsible for procurements. Under 'Project Gigabit' all procurements and contracts will be managed centrally by BDUK.
Rob Gittins, Shropshire Council's Cabinet member for digital, technology, data and insight, said:
"Improving broadband connectivity has always been a priority for Shropshire Council, but it's even more important in the wake of the coronavirus pandemic.
I'm pleased to see that the Shropshire procurement will be the first to start in Phase 1b, with contracts due to commence in early 2023. The Connecting Shropshire broadband team will remain integral to the process and will work with BDUK to get equitable broadband coverage across the Shropshire Council area.
In the meantime, Airband are continuing to deploy their 'fibre to the premises' broadband network in some of the hardest-to-reach areas in Shropshire. By the end of the contract, over 2,000 premises will have access to gigabit-capable broadband network solutions (shown as pink dots on the Connecting Shropshire broadband coverage map)."
Prior to any formal procurement process commencing any eligible premises in the Shropshire Council area will still be able to apply for a UK Gigabit Voucher. Shropshire Council added £1 million to 'top-up' the national scheme to make this as attractive as possible to suppliers and encourage them to support projected 'superfast gap' premises. It means homes and small businesses in the county can now claim up to £4,000 or £7,000 respectively to cover the costs of building a gigabit-capable broadband network. Funding remains available on a first come, first served basis.
The next milestone towards BDUK commencing a formal procurement will be a 'Public Review' process to validate the coverage information where public funding can be invested. This will run for one month and is expected to start later in August. We will formally announce when this process starts on our website.
More information about the Voucher Scheme can be found on the Connecting Shropshire website, or by contacting the team on 01743 252203 or connecting.shropshire@shropshire.gov.uk